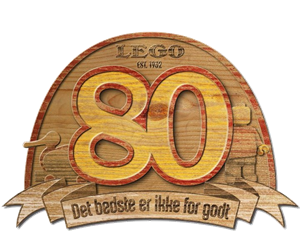 Today marks The Lego Groups 80th Birthday, they have come a far from the original wooden duck. A small history of the company has been posted on LEGO's new social media aggregator Rebrick

Here is a small blurb from it;

"Before the internet being an AFOL (Adult Fan of LEGO) could be a lonely affair. It was very difficult to find other fans. As one AFOL described in an interview, it was like "finding a needle in a haystack".
But with the internet, in the early-mid 90's, came the opportunity to connect. Back then it was only very tech-savvy AFOLs who could find each other through this new digital space. Communication was text-based (English) and centered on the joy of having found likeminded others who liked LEGO products.They also released a great short film


the film is spectacular, happy birthday Lego :D

Henri da Flipper

Senior Colonel





Posts

: 2500


Join date

: 2010-09-19


Age

: 23


Location

: upward



I am kind of surprised on how non-Lego 'family friendly' this video is, I am guessing it was done by an outside contractor, considering a usage of 'damn' slipped through. Not to be a complainer, I loved the video, but was surprised at this during my second time watching.
It's much more realistic that way... plus let us not go to batman's "Gosh Darn it"

Henri da Flipper

Senior Colonel





Posts

: 2500


Join date

: 2010-09-19


Age

: 23


Location

: upward



Good video. I personally would have perferred an entirely brickfilmed video, but this is cool too!

__________________________________________________
If you should go skating, on the thin ice of modern life...
-Pink Floyd "The Thin Ice". The Wall

Everybody needs somebody to love.
-The Blues Brothers "Everybody Needs Somebody". Film Soundtrack

Living is easy with eyes closed, misunderstanding all you see.
-The Beatles "Strawberry Fields Forever". Magical Mystery Tour

See me, Feel me, Touch me, Heal me.
-The Who "Go to the Mirror!". Tommy

You can't always get what you want, but if you try sometimes, you might find, you get what you need
-The Rolling Stones "You Can't Always Get What You Want". Let it Bleed

An open letter to the snotty barista at the Coffee Bean on San Vacente Boulevard: I know there were twenty people behind me in line, but I was on a cell phone call with my mother. Didn't you see me hold up my index finger? That means I'll order my soy decaf hazelnut latte in just a couple minutes. So what's with the attitude lady? No tip for you!
-Weird Al Yankovic "Craigslist". Alpocoplypse
Happy Birthday Lego! You sure made my earlier life a lot of fun.

Bossky

Baron





Posts

: 114


Join date

: 2012-02-18


Age

: 21


Location

: Saskatchewan, Canada





Similar topics
---
Permissions in this forum:
You
cannot
reply to topics in this forum