This years Winter Themed set picture has been leaked and or released. Normaly when we get high-res pictures such as these it is at a release during a con, I am guessing this is what LEGO is planning on releasing at Brickfair. It's a shame that they are leaked early, but as every other site is publishing them, I will post it.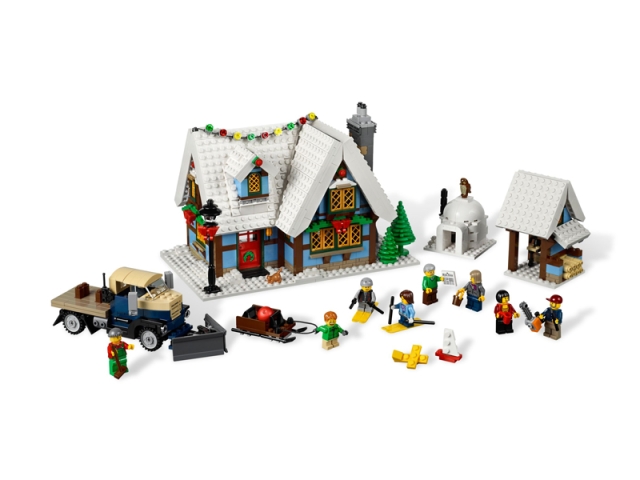 I really like the house, but the snow-plow isn't my favorite, the igloo and the shack are also rather nice.
I really love that snowplow!
Excited for this release!

Pickle_Delivery

Apprentice





Posts

: 12


Join date

: 2012-07-19


Age

: 15


Location

: America,America.



Looks nice. The blue is a change of pace.
__________________________________________________
My Flickr
My Brickset
My moderator dance senses are tingling!

Considering this set will likely retail for about $50, I will happily be asking for two for Christmas, I want to try to change the color, and see what other colors will look nice with it, although I do like the blue.
Another one great for HP MOCs :D

Henri da Flipper

Senior Colonel





Posts

: 2500


Join date

: 2010-09-19


Age

: 22


Location

: upward



Wow, these looks cool. I have the first two sets, but stopped with last years.
__________________________________________________
I don't have any of the others but I'm willing to start.

__________________________________________________
If you should go skating, on the thin ice of modern life...
-Pink Floyd "The Thin Ice". The Wall

Everybody needs somebody to love.
-The Blues Brothers "Everybody Needs Somebody". Film Soundtrack

Living is easy with eyes closed, misunderstanding all you see.
-The Beatles "Strawberry Fields Forever". Magical Mystery Tour

See me, Feel me, Touch me, Heal me.
-The Who "Go to the Mirror!". Tommy

You can't always get what you want, but if you try sometimes, you might find, you get what you need
-The Rolling Stones "You Can't Always Get What You Want". Let it Bleed

An open letter to the snotty barista at the Coffee Bean on San Vacente Boulevard: I know there were twenty people behind me in line, but I was on a cell phone call with my mother. Didn't you see me hold up my index finger? That means I'll order my soy decaf hazelnut latte in just a couple minutes. So what's with the attitude lady? No tip for you!
-Weird Al Yankovic "Craigslist". Alpocoplypse
This is a cool set! I really like the snowplow.

Bossky

Baron





Posts

: 114


Join date

: 2012-02-18


Age

: 20


Location

: Saskatchewan, Canada





Similar topics
---
Permissions in this forum:
You
cannot
reply to topics in this forum