Alright. HP Month's contest was a bust, but this one I KNOW will have more entries. This time, it's a MOC contest. I'm the only judge, so I can't enter. You can make your MOC on LDD, or with non-virtual legos, and take a picture to upload on the site
All MOC's must relate to this theme:
Autumn. Do whatever makes you think of autumn.
So, the contest ends december 5. Prize is a 25 dollar gift card to lego.com.
Hoping to see some of the best MOCs ever created by anyone EVAR.
(Who gets my refernces to Eddsworld in this post?)

__________________________________________________
If you should go skating, on the thin ice of modern life...
-Pink Floyd "The Thin Ice". The Wall

Everybody needs somebody to love.
-The Blues Brothers "Everybody Needs Somebody". Film Soundtrack

Living is easy with eyes closed, misunderstanding all you see.
-The Beatles "Strawberry Fields Forever". Magical Mystery Tour

See me, Feel me, Touch me, Heal me.
-The Who "Go to the Mirror!". Tommy

You can't always get what you want, but if you try sometimes, you might find, you get what you need
-The Rolling Stones "You Can't Always Get What You Want". Let it Bleed

An open letter to the snotty barista at the Coffee Bean on San Vacente Boulevard: I know there were twenty people behind me in line, but I was on a cell phone call with my mother. Didn't you see me hold up my index finger? That means I'll order my soy decaf hazelnut latte in just a couple minutes. So what's with the attitude lady? No tip for you!
-Weird Al Yankovic "Craigslist". Alpocoplypse
Okay, here is my entry!
"The circle of life!... err... death."
(Click the title for a link to the topic.)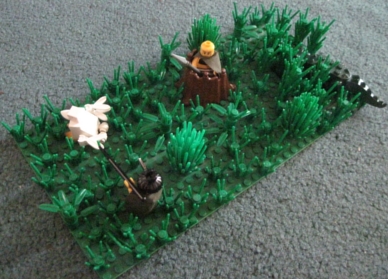 Enjoy!
Here's my entry,
An Abstract Fall Morning
Here is the
Flickr Set.

cralegoboy

Apprentice





Posts

: 64


Join date

: 2010-09-21


Age

: 23


Location

: Arkansas



Here is my entry-
I hope you enjoy.

Burman

Veteran





Posts

: 480


Join date

: 2010-09-12



Here is my entry:
http://thebrickhope.forum-motion.com/other-themes-f12/a-fabuland-winter-t248.htm
Octan
__________________________________________________
My Flickr
My Brickset
My moderator dance senses are tingling!



Similar topics
---
Permissions in this forum:
You
cannot
reply to topics in this forum